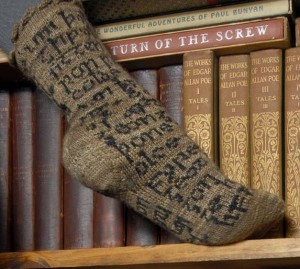 Just after I wrote in LJ that I often don't update my SCA blog, I update my SCA blog. Why? Because I found BEOWULF SOCKS! The socks contain text from the first page of a surviving Beowulf manuscript. Love it.
Note: Sadly, I can't find the pattern — Sanguine Gryphon isn't listing it on their old or new websites (Verdant Gryphon). But still, how much fun is this?!
UPDATE
Thanks to an eagle-eyed commenter (thanks Clarice!) the pattern download is FOUND.