Robert Seutter recently describe me thusly:
"And rumors tell of a Mountain Woman, tough as rawhide, pretty as a wildflower….she could split a cord of rock hard oak, run statistical demographics on a marketing campaign, and translate and memorize an 11th century Norse Saga, all before breakfast…she could make some tasty buckwheat pancakes on campfire, and chase off offending Mountain Lions, in the middle of blizzard….And her name….was Cougar Country Caitlin, though most of us just called her "Ma'am."
I can't do most of that but love you anyway! LOL!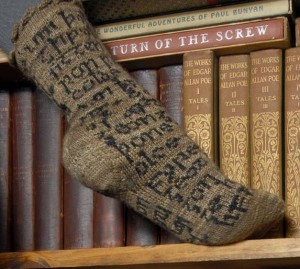 Just after I wrote in LJ that I often don't update my SCA blog, I update my SCA blog. Why? Because I found BEOWULF SOCKS! The socks contain text from the first page of a surviving Beowulf manuscript. Love it.
Note: Sadly, I can't find the pattern — Sanguine Gryphon isn't listing it on their old or new websites (Verdant Gryphon). But still, how much fun is this?!
UPDATE
Thanks to an eagle-eyed commenter (thanks Clarice!) the pattern download is FOUND.
I am delighted to report that the Cliar cu Buidhe musical troupe has released a new CD: "Cliar cu Buidhe. Period." As you might have guessed it's a wonderful collection of purely period voice and instrumental music. Some of the songs are "The Three Ravens," "Lullay, lullay," Sumer is icumen in," "Salve Splendor," and many more.
If you are interested in ordering you can do so through this link: http://www.cliarcubuidhe.org/Troupe.html.
Costuming is NOT my art. When I give myself time I can turn out some nice clothes, but because I'm bored I don't give it the time it needs. And then I'm always thinking about what doesn't fit quite right, and how I would do it differently, and how I've worn this dress into the GROUND and it's pretty well time to replace it! *sigh*
Sometimes I think that changing periods will help. I love love love the veil and wimple look so I want to do something where I can still do that. 14th century qualifies. I also like crespinettes, cotehardies, surcoats, etc. It's a pretty and interesting period. And the sagas that I specialize in were only written down in the 13th and 14th centuries so I wouldn't be moving away from my story roots.
And then again… my eternal thanks to THL Beathog who lets me process this with her endlessly! She pointed out that the few times I actually wore a 14th century cote I didn't really like it. Good point! So I'm thinking that changing periods isn't the issue — spending time turning out a few good pieces is. I like 12th century clothing. I can do side lacing if I want more fitted things. I love the braids and wimples, the belts, the mantles. I love the layers. I just need to up my game.
This process happens in real life too. You're bored and dissatisfied with a part of your life and you think you're supposed to do something different or be with someone else. Maybe you should… or maybe you just need to put in the time and creativity to make something good, great.
This won't be a long report because I am way too lazy but I wanted to write something down. So here goes in no particular order:
I packed in the rain, boo! But when I arrived on site the rain was pretty well gone. I do love the drive there and back again, it's really pretty. (138 west from Wrightwood to the Ridge Route; gorgeous). Set the tent up in record time anyway in case it did rain again.
My Regent 12×12 tent was barer than I like it. I've been cutting down on my load but I cut too deep and now my tent echoes with not enough comforting stuff, or enough storage space to be practical. Illuminada has a long folding table in her Regent and I think I'll adopt that. With a long tablecloth over it it has enough room to hide mundane storage pieces, I can set up my mirror/vanity area, and I can have my candles, books and Bible out too. I'll bring my 2nd Savanarola chair for seating; it breaks down so doesn't take up much room. I'll feel more at home  that way.
After years of being a Clanach in Cliar cu Buidhe I've been accepted into household membership. I'm so excited! They'll formally induct me at Estrella War. I have to remember my Clanach hood and pin or Frederick says they'll have to reconsider.  ;>
It's hard being a bardic sing-around-the-fire encampment right next to the loud sing-inappropriate-Irish-songs party house. Great.
My Dramatic Storytelling class went great with about 9-10 people. I and my friend Avicia were the only women there and Thomas Whiteheart said we had the beginnings of a bardic warband. It was exciting to see people enjoy the class and tell some great stories.
I will take another apprentice (welcome Angharat!) which brings my number to 3. I really enjoy helping good people along in their art so I'm thrilled! My apprentices are however threatening to camp next to my household and call themselves the Apprentice Barrio. At which point I turned red and sputtered.  ;>
I did a rare set at Open Arms Bardic — "rare" because I actually don't perform all that often. Bless Belasset for sitting me down and talking me into it, because she was right. Of course, I have a portable audience — my household and other friends — so that makes me feel 100% better!
Lovely weather. A bit cold at night but adding a woolen mantle took care of that.
Good shopping! I picked up a Laurel goblet (couldn't help myself), a set of cutlery along with Avicia, several books, some thread and a lucet from Pinebox Traders, and a beautiful gold wool that will be a nice overgown or coat.
Great eating as usual — Cliar cu Buidhe is justly famous for its camp cooking.
I am doubtless forgetting something but there you are. I had a lovely War.