Sat., 7/1/17
I've planned a from-the-skin-out (mostly) outfit for Caid's 12th Night. For my SCA readers, which are probably most of you: I'm a Laurel but not THAT kind of Laurel — I'm not a sewing Laurel. Shoot, I'm lucky if I get my hem straight. So here is my message: if I can do it, ANYONE can do it!
My plan is new stockings, chemise, tunic/under gown, surcoat, mantle, and filet. I may do a barbette or full veil and wimple; I'll see how I feel. I will also jewel an existing hairnet — period netting is WAY out of my wheelhouse — and bought my court shoes from Garb the World. (I have other pairs from Boots by Bohemond.)
Here is the fabric for the under gown. Kindly pay no attention to the wrinkles; it's in the dryer to smooth out even as we speak.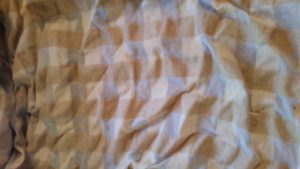 It's a beautiful checked silk that I got for next to nothing on eBay. LOVE eBay. It's very like this c. 1200 illumination (The Beheading of John the Baptist, Canterbury, England, Psalter, fol. 2 of 176):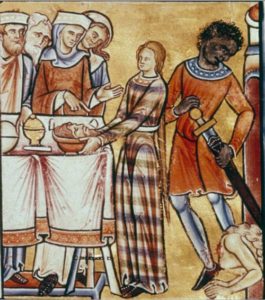 And while we're at it, not the filets over wimples — I might try that later in the project when I decide about headwear.