Archive for the 'Garb' Category
I finally worked my way through my linen stash, so before I buy more I promised myself that I'd use up my wool stash. I love warm clothes and winter time, so this is good — IF CAID ACTUALLY GETS COLD THIS YEAR.
Ahem. Sorry for yelling. Does anyone else look longingly at their warm wool layers and wish for a few icicles?
Costuming is NOT my art. When I give myself time I can turn out some nice clothes, but because I'm bored I don't give it the time it needs. And then I'm always thinking about what doesn't fit quite right, and how I would do it differently, and how I've worn this dress into the GROUND and it's pretty well time to replace it! *sigh*
Sometimes I think that changing periods will help. I love love love the veil and wimple look so I want to do something where I can still do that. 14th century qualifies. I also like crespinettes, cotehardies, surcoats, etc. It's a pretty and interesting period. And the sagas that I specialize in were only written down in the 13th and 14th centuries so I wouldn't be moving away from my story roots.
And then again… my eternal thanks to THL Beathog who lets me process this with her endlessly! She pointed out that the few times I actually wore a 14th century cote I didn't really like it. Good point! So I'm thinking that changing periods isn't the issue — spending time turning out a few good pieces is. I like 12th century clothing. I can do side lacing if I want more fitted things. I love the braids and wimples, the belts, the mantles. I love the layers. I just need to up my game.
This process happens in real life too. You're bored and dissatisfied with a part of your life and you think you're supposed to do something different or be with someone else. Maybe you should… or maybe you just need to put in the time and creativity to make something good, great.
I admired the apron dresses my friend Eabha was wearing last weekend at GWW. There were tons of other  nice-looking apron dresses walking around too. I deliberately placed my persona in time and region (late 11th Northumbria) so I could take advantage of Norse fashion. It's not an exact match since the apron dresses and tortoiseshell brooches had probably vanished by then. But it's not a big SCA-persona stretch to have some Norse outfits.I also specialize in telling stories from the Norse sagas and it would be fun to wear matching garb.
So this morning I was reading from my Giant Book of Norse Sagas (not actually called that) and thought, "What fun to have an apron dress! And beads! And brooches! And general all-around Viking bling!" So I might do that for Estrella, and if I get lucky for Naevehjem Anniversary/Frost Dragon Tourney this November.
BTW, I'm going to start taking notes about garb mentions in the sagas. They're not usually detailed but they're common enough, and it's interesting to hear what the sources say. For example, the 11th century Saga of Gunnlaug Serpent-Tongue has this report in it:
"The king thanked him for the poem and, as a reward, gave him a cloak of scarlet* lined with the finest furs and with a embroidered band stretching down to the hem."
*Note that skarlat referred generally to richly colored wools and not specifically to the color red.
Here is a report from the 11th century Saga of the People of Laxardal on an upper class woman's clothing:
"Gudrun was wearing a long tunic, a close-fitting woven bodice* and a mantle on her head. She had bound a shawl about her that was decorated in black stitching with fringes at the ends."
* I'm interpreting this as a close-fitting over-tunic, which we may interpret as a shaped "apron dress." In this case it would have the straps we associate with this style, rather than the sleeves of the Anglo-Saxon over-tunic.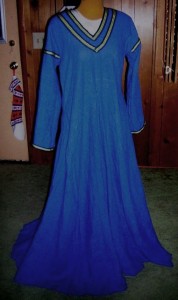 The blue dress is done. The construction is simple so I'll mention it briefly. I use Maggie Forest's rectangular method of cutting, which is by far and away the most common of period cuts. And what was economical for them in terms of using fabric is economical to us. I used 3-1/2″ yards to make a tunic with full skirt gores — sides, back and front. The only thing I would watch about these instructions is that the gussets will be HUGE. According to the pattern dimensions I would have cut 8″ gussets when I only need 4″. Otherwise it all makes perfect sense.
I decorated it with inkle trim I've done. I can tablet weave but I have to concentrate so hard that I really prefer to inkle. I'm going to make enough bands of the same pattern to encircle the bottom of the skirt twice. This weaving will keep me busy and off the streets, that's for sure. I'll wear the tunic with a chemise of course, although I cheat with sleeveless chemises. (The sleeveless version popped up in the 14th century, see Bohemian Bathhouse Babes.)
I also made a belt to go with it and other tunics.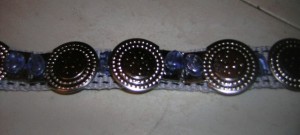 This is loosely modeled after some extant Viking belts that had metal plates mounted on leather. (My persona lives just north of the Danelaw so I borrow Norse influences in stories and clothing.) I didn't want to try to sew through leather so I used an inkle band for the backing, sewed on metal plates I cut off from an elastic back, and jeweled the thread holes and intersections. It's sparkly.
I HAVE to make a pair of these. Mistress Ari of Atenveldt made them a couple of years ago for the King of Outlands. I hope he knows how lucky he is. I must have a pair of my own for cool evenings in front of the firepit at War! Ari also points out that the plush lining doesn't break the bank, always a good thing.  BTW, while you're at the link check out some of her needlework and other projects — outstanding.