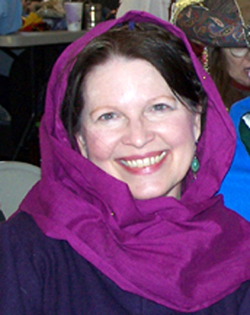 Wilcume! In the SCA I am Mistress Caitlin Christiana Wintour, an early 12th century Anglo-Saxon living in Northumbria. It has been over a decade since King William harrowed the North and our farm has survived and grown fertile again. Nevertheless I am careful to remain on good terms with the Normans.
In the SCAI am known as Mistress Caitlin Christiana Wintour, an early 12th century Anglo-Saxon from Northumbria. As a widow I am grooming my only son and heir to take over the responsibility of running our large farm. It has been 20 years since the Normans harrowed the north and the farm has returned to its former glory but I am careful to stay on the Normans' good side. I am a member of the Order of the Laurel for Dramatic Performance and Poetry.
Areas of Interest
Persona: Character development, history, society and culture. Set in late 11th and early 12th century Northumbria.
Performance: Storytelling, singing, acting. I will occasionally go outside the bounds of my period as Shakespeare is a particular favorite. Of course, since my persona lives part of the time in Caid I would have been introduced to a variety of periods. But I prefer to stay within the early medieval period.  That is a major part of the reason that I placed my persona in Northumbria, just north of the former Danelaw.
Composition: I am particularly interested in writing journals, poems, stories and plays from my persona's period. Previous work includes The Tale of Glam and the fictional diary of a 16th century gentlewoman.
Garb: After a good 20 years of Elizabethan costuming (!) I was ready to make a change. I became interested in late Anglo-Saxon and early Norman costuming in England. This period is certainly challenging because we lack a large body of illuminations, statuary, extant garments, etc. that later periods enjoy. But it's fun!