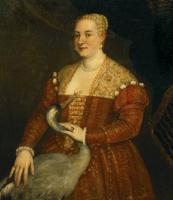 The painting is by Veronese (1550s) entitled Portrait of a Lady with a Heron (appropriately enough). It is representative of many Venetian upper class and noble female dress of the second half of the 16th century. Love the heron — I have a stuffed goose and swear I will have my picture taken with it.
I'm not jumping on the recent "courtesan" fad inspired by Dangerous Beauty. Don't get me wrong, the dresses are beautiful and the courtesan subculture in Renaissance Venice is fascinating. But the movie version of their clothing and loose hair is largely a fantasy. I would love to wear my hair down and there are a few portraits where this is the case. However, as far as I can see these are brides on their wedding day. The courtesans aped the noble fashions of the day, which did not demonstrate loose hair. Too bad, I like my long hair!
But that's O.K., the accurate hairstyles were pretty… minus the high horns, I hate those! Period sources indicated that not all women liked them either. There is one book written by a Venetian woman named Moderata Fante in 1591 that fictionalized an exchange between the "Queen" and two of her ladies where they discussed the hairstyle.
"That's all very well," said the Queen, "but how about those curls, those horns, that men are always carping about: what do you say to them? I can't say I'm particularly keen on the fashion."
For more on Venetian hairstyles, please see Bella's excellent article "A Crowning Glory."
There is quite a bit of interesting discussion out there about the Great Corset Cover debate. The gist of it is if the fabric underneath the ladder lacing is in fact a chemise or a stomacher or a false corset cover — assuming there is a corset at all! Here is my 2 cents:
There is indeed a corset under there. It's true that Venetian (and Italian in general) clothing adopted the corset later than England, France and Spain. Judging from the smooth lines of even the largest women's torsos, I do not doubt that corsets were widely adopted in upper class fashion by 1560 or so. That's not to say they were always worn, modern costumers have achieved similar lines using heavily boned bodices and period portraiture occasionally displays a breast curve. But it is very likely that at least the more formal gowns took corsets by now.
Given a corset, there is almost certainly a real chemise or smock underneath the corset. Venetian drawings show sleeveless smocks much like modern slip dresses, and it could be this or a full-sleeved version underneath the corset. I believe it makes sense that if a full chemise is worn over the corset then either a very narrow chemise or sleeveless smock would have been worn under the corset.
I am perfectly willing to believe that women could have worn either a full chemise or a false front over their corset and directly behind the ladder lacing. The portraits could be displaying both.
For this gown I postulate that the decorated panel behind the ladder lacing is exactly that. It matches the decorated partlet which is a separate piece from the chemise. So I will wear my chemise underneath my corset and make a corset cover (sort of a stomacher) from a stiff white backing and the same bronze-colored chiffon as my partlet. I could also make the cover and partlet from some silk chiffon I have on hand, but I love the look of the bronze chiffon with the red dress. And that matches the portrait better anyway.
I am trying to make this gown out of fabrics already in my stash since collecting fabrics is getting pretty silly when I refuse to make them into something. The below are all fabrics and accessories I already have:
Red and gold woven brocade. It's a cotton brocade, which would not have been made for one of these gowns. They did use cotton but not for gowns, certainly not court gowns. However, I favor cotton brocades for their washability and the fact that they last forever. And I love this pattern.
White chiffon for the shoulder puffs
White chiffon for the veil… maybe. I love veils and the Venetian ladies certainly wore them, but possibly only outside and this dress is for an indoor event. I may do it anyway.
I'm not sure about the wrist ruffs. I have a pair already but they're ivory and wouldn't match the white puffs. I'll think about that one… although it occurs to me that I have an older white pair that might all right with some repair.
Bronze poly chiffon for the partlet and corset cover. I think I'll trim that in some gold trim I have since it's decorated in the portrait. I don't have the time or talent to do major gold embroidery over light chiffon, but the trim will be pretty and close to some portraits.
Pearl jewelry as in the portrait.
Hair — I do have long hair but am not entirely sure how to twist and curl my hair so it frames my face. I like it, I'm just not sure how to do it. I think I'll set my hair on thin hot rollers to make it curl and then put it back in a braided bun. And I also have a human hair fall that's seen better days, but I think if I wash it and condition it with hot oil I may be able to save it. Then I'll braid it and add it to make a fuller jeweled bun.
What I don't have and wish I did is a gold beaded girdle. They're so pretty and so useful for all sorts of noble costumes of this time period. So that too will be an experiment. I have seen sashes on some gowns of this time period, but those gowns are plainer.
August 11, 2006
Today I am planning on actually doing some sewing. (!) In the meantime, I have posted a page of Venetian portraits using Google Picasa, which is a pretty cool little program.
August 24, 2006
Yesterday I finished the bodice, which was the big deal with this gown.
You can't see a lot of it in this picture because the gap is so wide and I don't have the laces in, but note the wide-set narrow straps and the points. I'd never done the open Venetian bodice before and was concerned with getting the fit and construction right. I'm pleased that the bodice turned out as well as it did. I was worried about the back point looking bizarre by curling or folding up, but once the bodice bottom edge was turned up and fitting properly over my hips it was fine. I added cable tie boning too to the back point and that was a good thing. I also added cables ties to the front edges and front bodice panel. I'm definitely corseting, but the extra bones help to keep the bodice fabric straight.
I still need to finish up and stuff the sleeves, cartridge-pleat the skirt and attach it to the bodice, hang it for hemming and do the corset cover and partlet.
In the picture to the left you're looking at the back. Note the distinctive Venetian back point.
For the chemise, I don't have any suitable white linen or cotton on hand and will have to venture forth and find some. (They would have used linen but I sometimes go for a pretty figured cotton instead.) I have silk chiffon on hand but don't want to sacrifice it for a chemise that won't be seen save for its decorated top edge (maybe).
The shaped shoulder straps look good and should stay on my shoulders given the weight of the skirts that will attach to the bodice. The concern of course is keeping those narrow and wide-set straps from falling off one's shoulders. There are a few portraits where that is happening but that's not the look I'm going for. I shaped them into a gentle crescent moon shape that angles in towards the bodice. Thus the top edge of the strap sits just shy of my shoulder point, while the edges of the straps attach to the bodice farther away from the armscye to exert a gentle pull on the straps. I'm a little concerned about tying on the sleeves and how the straps will take that, but the sleeves are snug (almost too snug) so there won't be a lot of pull on the straps.
Because I wasn't sure of the fit and construction, I cut the straps separately from the bodice. I might keep doing that, it seems to be easier than trying to shape them as part of the bodice.
Let's see, what else… I still have to cut the top edges of the skirts to correspond to the front and back points of the bodice. I'm going to eye it and call it good since cartridge pleating is pretty forgiving. I'm such a lazy seamstress: I don't pad the pleats and I can't be bothered to measure the running stitches for the pleats. Somehow it all comes out looking right anyway. Since my bodice is all the way open down the front, instead of tapering to a close at the waist, I'll have to do something to the skirt so I can get into it. I am planning on cartridge pleating all around the skirt except for the very front edge, keeping about 5-10″ of the skirt top unpleated. The theory is that with the bodice on and laced, I can just box-pleat the smooth edge that sits just under the corset points. If it wants to go south for the winter (i.e., opening and gapping) I can add hooks or snaps to the box pleat keep it snug. I suppose I could lace it, but we'll see.
August 25
Well shoot, I've run into a problem. It suddenly occurred to me that I don't have a clue h
ow to attach the skirt with a wide-open laced bodice! Where does the front edge go? If it were a separate skirt there would be no issue of course, it would merely attach to the waistband and sit at my natural waist. However, the paintings sure look like the skirt is attached at the waist and follows the points on both front and back. If you are closing the ladder laced bodice at the front point, which is a common style, once again you don't have a problem. You just sew the top edge of the skirt to the bodice all around, leaving a 10″ gap in the skirt. Once the bodice is on and laced closed the skirt folds over on itself and sits all nicely pleated. It's also the way to get into a skirt with a bodice that closes at center point.
They did have a way to do this, you can see it on the right. But I don't know how… unless the skirt is attached to a binding strip instead of straight onto the bodice. This would allow the skirt to be pleated all around to the binding strip, which acts as a waistband around tghe center front. It still seems bizarre though, sitting as it would below the natural waist. I suppose it could be attached to a rigid corset cover, though not a chemise since that would have had to be taken out to wash.