We're used to recreating wooden Viking chests. That's fine, I'd like to own a few myself. But as a matter of contrast I present a serious Viking chest from @1000 AD. It presently resides at Bayerisches Nationalmuseum: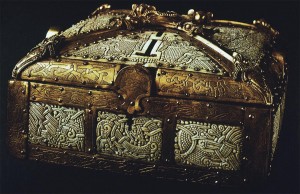 Added afterward: this is the Bamberg Casket dated about 975. It is Scandinavian work but was found in a Bavarian church. It's made of oak, walrus ivory, gilt copper and rock crystal. It's presently in the Bavaria National Museum in Munich, Germany. It's sometimes referred to as "Queen Kunigunde's jewel casket" but that is extremely improbable.
David M. Wilson's Viking Art mentions more details.
The Bamberg Casket is now in the Bavarian National Museum in Munich…. Of Scandinavian workmanship.(It was the Cammin casket and not the Bamberg Casket which was destroyed during WWII – but the workmanship and style are very similar.)

"The casket is square in plan and has a slightly pitched roof: 10.4″ (25 cm.) long and 5.1 in. (13 cm.) high, it consists of an oak box covered with thin, carved sheets of walrus ivory. These sheets are clasped by gilt-bronze bands, which are nailed to the wooden base. The lid is reinforced and decorated with ridge poles set saltirewise with a spherical crystal separating four animal heads in the centre.  The animal and birds heads are in high relief and are floridly formalized. The other strips of gilt bronze are decorated with a formal tendril pattern, or an irregular Scandinavianized interlaced version of it, modern replacements (the original key hole is a T-shaped slot in the lid), while a number of pieces of cast bronze are missing from the space between the arms of the saltire on the lid." (The nails look like brass escutcheon pins to me.)

"The ivory panels are skilfully decorated in a lively version of the Mammen style. In one of the fields of the lid, for example, is a human mask triangular form, the moustache, hair and beard of which are produced into fantastically elaborate scrolls and tendrils, the broader band containing the familiar pelleting so typical of the style. Other panels contain birds and animals (in pairs or singly), all caught up in the great convolutions of the tendrils and leaf-like interlace. The right-hand panel on the lid of the box, for example, bears the representation of of a fierce creature with lip-lappet, spiral hips, large feet, interlacing terminals and a tail terminating in an acanthus leaf…